Jarðskorpan hefur ávallt verið á reki um jarðkúluna frá því hún varð til skömmu eftir að Jörðin myndaðist. Himinhá fellingafjöll risu við það að jarðskorpufleka rak saman en roföflin sáu til þess að þau hurfu í tímans rás. Ein slík fellingahreyfing var í gangi fyrir 450 – 420 Má þegar Kaledónísku fellingafjöllin mynduðust þegar Lárentíu (Norður-Ameríku) og Baltiku (Skandinavíu) rak saman og meginlandið Lárasía myndaðist. Á þessum tíma lá miðbaugur um Grænland ◊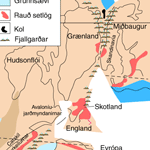 en á suðurhveli var mikið meginland, Gondvanaland. ◊
Á næstu 100 Má setti rof mark sitt á landslagið áður en næsta fellingahreyfing byrjaði þegar Gondvanaland rak til norðurs. Það sameinaðist Lárasíu og myndaði Pangeu ◊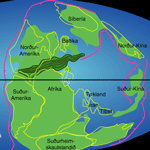 ◊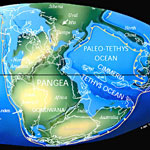 í varísku fellingahreyfingunni á kola- og permtímabilinu fyrir 360 til 290 Má. Við þetta brotnaði jarðskorpan á milli Grænlands og Skandinavíu (Fennosarmatia) upp í litla fleka úr meginlandsskorpunni. (RHB, , IBM, IM).29 ◊.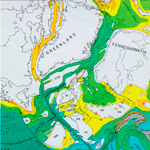 Þegar kom fram á síðjúra fyrir uþb. 150 Má komu brestir í stórmeginlandið Pangeu þar sem Karabíska hafið er nú og úthafsskorpa byrjaði að myndast á stuttum rekhrygg sem síðan teygði sig suður á milli Suður-Ameríku og Afríku — Atlantshaf var að myndast. ◊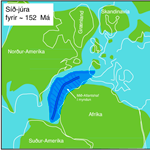 ◊.
Eftir því sem Atlantshaf á milli Suður-Ameríku og Afríku breikkaði færðist rekið til norðurs og rekhryggur ýtti Nýfundnalandi og Íberíu í sundur. Hann sendi ennfremur greinar inn Biscayaflóa og á milli Rockall og Írlands en þær dóu fljótlega út.29 ◊.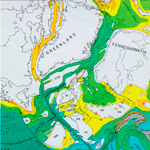 Meginhryggurinn teygði síðan til norðurs á milli Baffinslands og vesturstrandar Grænlands þar sem hann var virkur í 25 Má eða frá því fyrir 79-54 Má [A33 – A24].26,851 C31 – C24 10,982 ◊.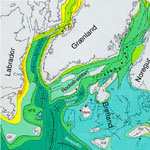 Margt bendir til þess að möttulstrókurinn sem nú er kenndur við Íslands hafi verið orðinn virkur fyrir 130 Má og þá undir hryggjum í Norður-Íshafi (Arctic Mendelev & Alpha Ridges). 17 ◊.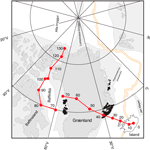 Hann færðist til suðurs á 70° nb. og síðan til austurs og virðist hafa verið undir miðju Grænlandi austan Diskó fyrir 62 Má – 58 Má. Svo virðist sem iðustreymi í möttlinum hafi skyndilega aukið virkni möttulstróksins en við það breiddi hann verulega úr sér undir jarðskorpunni 16;22 ◊.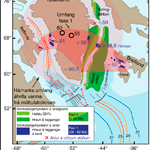 þannig að mikil gos urðu allt frá Norður Írlandi og veturströnd Skotlands ◊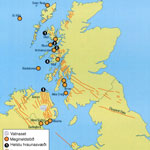 ◊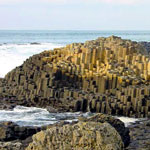 til Disko á vesturströnd Grænlands og Baffinlands ◊.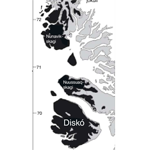 en uþb 2.050 km eru á milli þessara svæða.3 Neðsti hluti Færeyja [Lopra myndunin; LF] myndaðist á þessum tíma nyrst á Rockall örflekanum. ◊.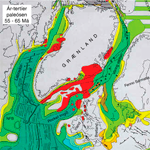 Að þessu loknu tók við rólegt tímabil með lítilli eldvirkni sem líklega hefur staðið innan vð 1 Má eða frá 56,5 – 56 Má 23 ◊.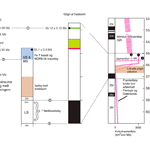 en frá þessum tíma er að finna setlög með plöntusteingervingum og kolalögum í berglögum Austur-Grænlands og Færeyja. ◊.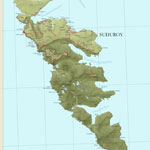 ◊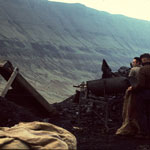 ◊.
Mikil eldvirkni hófst svo fyrir 55 – 54 Má við austurströnd Grænlands allt frá syðsta odda Grænlands, Hvarfi á 59°30', og norður til German Havn á 74° 30'. 23 ◊.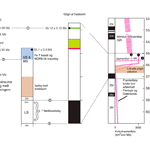 ◊
Þessi gos urðu til þess að Mið-Atlantshafshryggurinn breytti um stefnu. Hann yfirgaf Labradorhaf og Davissund en braut sér leið til norðausturs. Syðst og norður til Færeyja klauf Reykjaneshryggurinn Rokall örflekann frá Grænlandi en norðar var rekið út frá Ægishrygg og Mohns-hrygg. Elsta segulfrávikið, C24, sem markar upphaf landreks á Norð-Austur Atlandshafi er 52,9 Má gamalt. 18 ◊.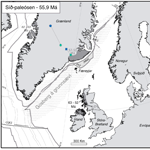 ◊.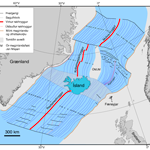 Heimildir:
1
Allen, Richard M. et al. 2004: "Resolution of regional seismic models: Squeezing the Iceland anomaly", Geophys. J. Int. (2005) 161, 373-386.
2*
Brooks, C. Kent 2011: "The East Greenland rifted volcanic margin" GEOLOGICAL SURVEY OF DENMARK AND GREENLAND BULLETIN 24 ● 2011.
3
Campbell, Ian H. 2007: "Testing the plume theory" Chemical Geology 241 (2007) 153–176.
4
Foulger, Gillian R. 2007: "The "Plate" model for the Iceland melting anomaly", Abstract of talk given at the 94th Journées Luxembourgeoises de Géodynamique, Gonderange, Luxembourg, November 12-14, 2007.
5
Foulger, G.R 2006: "Older crust underlies Iceland", Geophys. J. Int (2006) 165, 672-676.
6
Foulger, G, R. 2005: "Genesis of the Iceland Melt Anomaly by Plate Tectonic Processes".
7
Foulger, G.R. et al. 2005: "A cool model for the Iceland hotspot", Journal of Volcanology and Geothermal Research 141 (2005) 1 — 22.
8
Foulger, G.R. et al. 2000: The seismic anomaly beneath Iceland extends down to the mantle transition zone and no deeper", Geophys J. Int. (2000) 142, F1-F5.
9*
Ganerød, Morgan et al. 2008: "Reassembling the Paleogene–Eocene North Atlantic igneous province: New paleomagnetic constraints from the Isle of Mull, Scotland", Earth and Planetary Science Letters 272 (2008) 464–475.
10
Gerlings, Joanna et al. 2009: "Seismic evidence for plume-derived volcanism during formation of the continental margin in southern Davis Strait and northern Labrador Sea", Earth and Planetary Science Letters 272 (2008) 464–475.
11
Guðmundur Pálmason & Kristján Sæmundsson 1974: "ICELAND IN RELATION TO THE MID-ATLANTIC RIDGE", Annu. Rev. Earth Planet. Sci. 1974.2:25-50.


12
Hardarson, B.S et al. 1997: "Rift relocation — a geochemical and geochronological investigation of a palaeo-rift in northwest Iceland" Earth and Planetary Science Letters 153 ( 1997) 181 - 196
13
Kneller, E. A., and C. A. Johnson, 2011: "Plate kinematics of the Gulf of Mexico based on integrated observations from the Central and South Atlantic: Gulf Coast" Association of Geological Societies Transactions, v. 61, p. 283–299.
14*
Larsen, Lotte M. et al. 2003: "Paleogene volcanic ash layers in the Danish Basin: compositions and source areas in the North Atlantic Igneous Province", www.elsevier.com/locate/lithos.
15
Larsen, H. C. & S. Jakobsdóttir 1988: Distribution, crustal properties and significance of seawards-dipping sub-basement reflectors off E GreenlandGeological Society, London, Special Publications January 1, 1988, v. 39, p. 95-114.
16
Larsen, Tine B, et al. 1999: "Ultrafast mantle plumes and implications for flood basalt volcanism in the Northern Atlantic Region", Tectonophysics 311 (1999) 31–43, ELSEVIER .
17*
Lawver, Lawrence A. et al. 1994: "Iceland hotspot track", Geology v. 22, p. 311-314, April 1994.
18
Le Breton, E. 2012: "Variations in amount and direction of seafloor spreading along the northeast Atlantic Ocean and resulting deformation of the continental margin of northwest Europe" TECTONICS, VOL. 31, TC5006, doi:10.1029/2011TC003087, 2012
19*
Lundin, Erik et al. 2004: "The Iceland "Anomaly" – An Outcome of Plate Tectonics",StatoilHydro ASA, Research Centre, 7005 Trondheim, NORWAY.
20
Martin, E., Olgeir Sigmarsson et al. 2011: "Geodynamics of rift–plume interaction in Iceland as constrained by new 40Ar/39Ar and in situ U–Pb zircon ages" Earth and Planetary Science Letters 311 (2011) 28–38.
21
Mutter, John C. 1985: "SEAWARD DIPPING REFLECTORS AND THE CONTINENT-OCEAN BOUNDARY AT PASSIVE CONTINENTAL MARGINS", Tectonophysics, 114 (1985) 117-131
22*
Saunders, A.D et al.1997: "The North Atlantic Icneous Province": Geiphysical Monograph 100, American Geophysical Union.
23*
Storey, Michael et al. 2007: Paleocene-Eocene Thermal Maximum and the Opening of theNortheast Atlantic ; SCIENCE VOL 316 27 APRIL 2007.
24
Storey, Michael et al. 1998: "40Ar/39Ar geochronology of the West Greenland Tertiary volcanic province" Earth and Planetary Science Letters 160 (1998) 569–586.
25
Toghill, Peter 2002: The Geology og Britain, Airlife Books.
26*
Torsvik, Trond H. et al. 2001: "Cretaceous–Tertiary geodynamics: a North Atlantic exercise", Geophys. J. Int. (2001) 146, 850–866.
27*
Trønnes, R.G. 2002: "Geology and geodynamics of Iceland", Nordic volcanological Institute, University of Iceland.
28
Ziegler, P. A. 1989: Evolution of the North Atlantic--An Overview: Chapter 8: North Atlantic Perspectives, Volume M 46: Extensional Tectonics and Stratigraphy of the North Atlantic Margins, Pages 111 - 129 (1989), AAPG Special Volumes.
29
Ziegler, Peter A. 1999: EVOLUTION OF THE ARCTIC-NORTH ATLANTIC AND THE WESTERN TETHYS--A VISUAL PRESENTATION OF A SERIES OF PALEOGEOGRAPHIC-PALEOTECTONIC MAPS
< http://www.searchanddiscovery.com/documents/97020/memoir43.htm >.